Merry-Hill 2023 Junior League
00139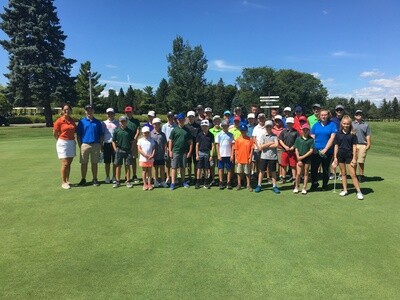 Junior Golf
MERRY-HILL 2023 JUNIOR LEAGUE PROGRAM
League Registration - $210.00 plus HST
Participate in a wonderful junior golf program this summer! For kids ages 10-17, this semi-competitive league will introduce your child to the game of golf and give them experience on the course! Your league registration includes the cost of playing golf each week!
Junior League Registration includes:
8 weeks of golf July 4, 11, 18, 25, August 1, 8, 15 and 22
Year-end closing tournament on August 29th (9 hole event)
Team shirt
Participation gift
Weekly prizes
League Format
semi-competitive golf in a team vs. team setup
9 hole scramble format (2 or 4 person, TBD each week)
Team points assessed each week for:

wearing their team shirt,
weekly participation
handing in accurate scorecards,
winning a match (team vs. team),
showing good sportsmanship
Extra Information
If your child will be away during the scheduled league play, please inform the League Coordinator at least 1 week in advance. This is out of respect for the other players so that appropriate groupings can be made ahead of time.

League play will only be cancelled in the event of a severe storm. If league play is cancelled by Merry-Hill, a rain check will be provided to your child. If it's raining and your child does not want to come and play, please call the golf shop at 519-648-2831 to cancel their tee time.
Male (0)
Female (0)
Prefer not to answer (0)
Yes (0)
No (0)